BIO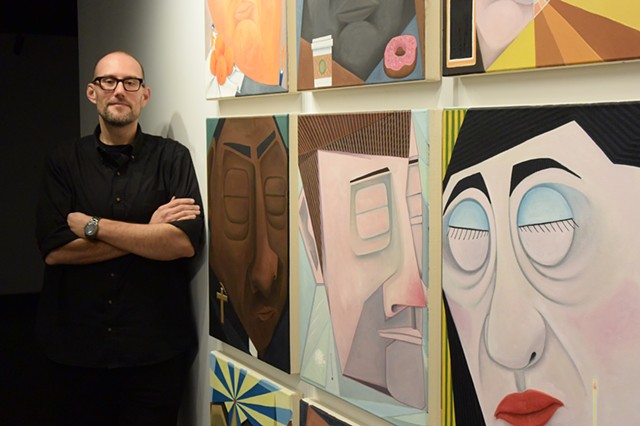 Brian Cirmo is represented by 532 Gallery Thomas Jaeckel in New York City. Solo exhibitions include Gray Matters, 532 Gallery Thomas Jaeckel; Paintings, Lake George Arts Project, Lake George, NY; Doldrums, the Burrell Roberts Triangle Gallery, Sinclair College in Dayton, OH; Black, the Rice Gallery, McDaniel College, Westminster, MD, and Patterns, Cycles, and Change, Wilson Gallery, Le Moyne College, Syracuse, NY. He has appeared in numerous group exhibitions in museums and galleries across the country including: the Joyce Goldstein Gallery in Chatham, NY; Mills Gallery, Boston Center for the Arts in Boston, MA; The Hyde Collection Museum in Glens Falls, NY; Kellogg Gallery, Cal Poly University in Pomona, CA; and Antenna Gallery, New Orleans, LA. Cirmo's work has been featured in numerous publications including: Vast Magazine, Lunch Ticket Magazine, the Matador Review, Gambling the Aisle Magazine, and Studio Visit Magazine. Curated exhibitions include: Our Heads and Masters of War at Albany Center Gallery; Abstract /'kelCHer/, OCC Art Gallery, SUNY Onondaga, Syracuse NY, and The Roaring Twenties, Joyce Goldstein Gallery, Chatham, NY.
Residencies and awards include: Salem to Salem, Salem Art Works, the Elizabeth Murray Artist Residency, the 2017 Mona Ruth Brickman Artist of the Year Award, and a 2009 and 2013 Juror's award at the Artists of the Mohawk Hudson Region Exhibition. In 2009 and 2015 Cirmo received the University at Albany Purchase Award at the Artists of the Mohawk Hudson Region Exhibition. Public collections include the University Art Museum, Siena College, and the College of Saint Rose.
Cirmo was born in Utica, NY. He has an M.F.A. from the State University of New York at Albany and a B.F.A. from the College of Saint Rose. Cirmo lives and works in Albany, NY and is an Adjunct Professor at PrattMWP in Utica, NY.